My Mentor's Daily Current Affairs Analysis
DAILY CURRENT AFFAIRS 01 JUNE 2022
31st May is observed as 'World No Tobacco Day' every year to spread awareness around the deadly effects of tobacco consumption.
The Member States of the World Health Organization created World No Tobacco Day in 1987 to draw global attention to the tobacco epidemic and the preventable death and disease it causes.

In 1988, Resolution WHA 42.19 was passed, calling for the celebration of World No Tobacco Day, every year on 31 May.
WHAT ARE THE KEY HIGHLIGHTS?
The theme of World No Tobacco Day 2022 is "Protect The Environment".

As per WHO, "The harmful impact of the tobacco industry on the environment is vast and growing, adding unnecessary pressure to our planet's already scarce resources and fragile ecosystems."

Every year, the WHO honours governments, organisations and individuals for their efforts and contributions to curbing tobacco use.

This year, the WHO has selected Jharkhand for the World No Tobacco Day (WNTD) Award-2022.
WHAT ARE THE HEALTH IMPLICATIONS OF TOBACCO?
Tobacco addiction has been recognised as the single largest cause of preventable death and disability worldwide.
Every year millions of people die due to tobacco use.

India accounts for nearly 1.35 million deaths every year and it is also the second largest consumer and producer of tobacco.
Nearly 80 lakh people die every year globally, of whom 13.5 lakh are Indians.

Smoking causes death through cancer, heart attacks, brain strokes, Chronic Obstructive Pulmonary Disease (COPD) and peripheral vascular diseases.
Women smokers are increasing. Women face additional hazards like adverse pregnancy outcomes, female specific cancers such as cancer of breast, cervix, and increased cardiovascular risks.
Unless sustained and effective initiatives are implemented the prevalence of female smoking is likely to rise to 20% by 2025.
WHAT ARE THE ENVIRONMENT EFFECTS OF TOBACCO?
Emission of Greenhouse Gas: More than 84 megatons of GreenHouse gas emissions occur in a year.
Contamination of soil and water: Tobacco contaminates soil and water due to toxins and contamination of soil by the micro plastics in the cigarette butts and single use non-biodegradable pouches and e-cigarettes.
Tonnes of water are used to make cigarettes.
Deforestation: More than 60 million trees are chopped down to make cigarettes.
WHAT IS THE DATA FOR INDIA?
The Global Adult Tobacco Survey (2010), carried out in 29 States and two Union Territories i.e Chandigarh and Pondicherry, has shown a declining trend among males, and an overall increasing trend of female smoking during 2005-09.

The growing spending power among women and weakening of social and cultural constraints due to globalization and economic transition are seen as some of the reasons for this alarming trend.
WHAT ARE THE INITIATIVES TO PREVENT TOBACCO CONSUMPTION?
WHO Framework Convention on Tobacco Control (FCTC): It is the first international treaty negotiated under the auspices of the WHO.

It was adopted by the World Health Assembly on 21st May 2003 and entered into force on 27th February 2005.
The FCTC's measures to combat tobacco use include:

Price and tax measures.
Large, graphic warnings on tobacco packages.
100% smoke-free public spaces.
A ban on tobacco marketing.
Support for smokers who want to quit.
Prevention of tobacco industry interference.

WHO introduced MPOWER, a package of technical measures and resources, each of which corresponds to at least one provision of the WHO FCTC.

National Tobacco Control Programme (NTCP): Government of India launched the National Tobacco Control Programme (NTCP) in 2007 to

create awareness about the harmful effects of tobacco consumption,
reduce the production and supply of tobacco products,
ensure effective implementation of the provisions under "The Cigarettes and Other Tobacco Products (Prohibition of Advertisement and Regulation of Trade and Commerce, Production, Supply and Distribution) Act, 2003" (COTPA)
help the people quit tobacco use,
and facilitate implementation of strategies for prevention and control of tobacco advocated by WHO Framework Convention of Tobacco Control.
The impact can be reduced by

raising awareness among people, high taxation on tobacco products,
making strict laws against smoking in public places,
ban on direct and indirect forms of advertisements,
active support to those who decide to quit tobacco to various means,
imposing penalties on the tobacco companies for the environment damages,
encourage and support tobacco farmers to shift to sustainable and alternative crops,
health education from school-level and cancer screening for smokers and those quit smoking for early diagnosis of cancer.
GOVERNMENT INITIATIVES TO PROMOTE NORTH-EAST CONNECTIVITY AND ITS SIGNIFICANCE
GS Paper - 3 - Infrastructure - Growth & Development - Inclusive Growth - GS Paper - 2 - Government Policies & Interventions
WHY IN NEWS?
Recently, India's Finance Minister announced the execution of several rail, road and air connectivity projects worth Rs. 1,34,200 crore in the northeast.
These projects will help in bringing the rest of India closer to the North-East and vice-versa.
Connectivity with Southeast Asian countries will also remain an area of focus.
WHAT ARE THE MAJOR INFRASTRUCTURE PROJECTS IN THE NORTHEAST?
Rail, Road and Air Connectivity:

4,000 km of roads, 20 railway projects for 2,011 km and 15 air connectivity projects are being developed.

Waterways Connectivity:

National waterways on the Ganges, Brahmaputra and Barak rivers (National Waterways (NW)-1 on the Ganges, NW-2 on Brahmaputra and NW-16 on Barak) are under development to provide better connectivity.
As the cost of travel through water is the least when compared to air, road and rail networks, the riverine systems of India and Bangladesh can be leveraged for all types of transportation.
Along the Brahmaputra River, the development of the entire area between Sadiya and Dhubri in Assam is ongoing for improved connectivity.
Multimodal hub that includes a ship repairing port at Pandu, four tourist jetties, and 11 floating terminals on the Brahmaputra in Guwahati is under construction.

Eastern Waterways Connectivity Transport Grid:

It will connect the northeast with the rest of India by providing 5,000 km of navigable waterways.

North Eastern Region Power System Improvement Project (NERPSIP):

(NERPSIP) is a major step towards economic development of the North Eastern Region through strengthening of Intra - State Transmission and Distribution systems.
Government is also emphasizing on projects related to power transmission and distribution, mobile networks, 4G, and broadband connectivity.

Prime Minister's Development Initiative for North East (PM-DevINE): It was announced in Union Budget 2022-23.This will fund infrastructure in the spirit of PM Gati Shakti, and social development projects based on felt needs of the North-East.
WHAT IS THE IMPORTANCE OF THE NORTH-EAST REGION?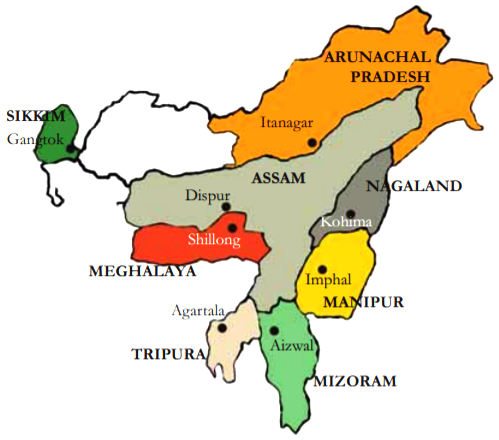 WHAT ARE THE DIFFERENT GOVERNMENT SCHEMES AND INITIATIVES FOR NORTH-EAST REGION?
Ministry of Development of North Eastern Region (DoNER): A Department of Development of North Eastern Region (DoNER) was established in 2001. It was elevated to a full ministry in 2004.
Infrastructure Related Initiatives:
Connectivity Projects:
Tourism Promotion:
North-East Industrial Development Scheme (NEIDS): In order to promote employment in the North East States, the Government is incentivizing primarily the MSME Sector through this scheme.
The National Bamboo Mission has a special significance for the Northeast.
North Eastern Region Vision 2020: The document provides an overarching framework for the development of the North-East region to bring it at par with other developed regions under which different Ministries, including the Ministry of DoNER have undertaken various initiatives.
Digital North East Vision 2022: It emphasises leveraging digital technologies to transform lives of people of the north east and enhance the ease of living.
Investing in infrastructure would generate employment and would play a major role in thwarting secessionist movements in the North-East region.
India's North East is surrounded by national and international borders, so, national and international infrastructure development will be the best choice for inclusive development in India's Northeast.
GS Paper - 2 - GS Paper - 3 - Growth & Development - Government Policies & Interventions
The Ministry of Micro, Small and Medium Enterprises has approved the extension of the Prime Minister's Employment Generation Programme (PMEGP) for five years till FY26.
The PMEGP has now been approved for continuation over the 15th Finance Commission Cycle for five years from 2021-22 to 2025-26 with an outlay of Rs 13,554.42 crore.
WHAT IS THE PMEGP SCHEME?
Launch:

The Government of India approved the introduction of a credit linked subsidy programme called Prime Minister's Employment Generation Programme (PMEGP) in 2008 for generation of employment opportunities through establishment of micro enterprises in rural as well as urban areas.
It allows entrepreneurs to set up factories or units.

Administration:

It is a central sector scheme being administered by the Ministry of Micro, Small and Medium Enterprises (MoMSME).
Implementing Agency at the National Level: Khadi and Village Industries Commission (KVIC) - a statutory organization under the administrative control of the Ministry of MSME.

Features:

Eligibility:

Any individual, above 18 years of age.
Only new projects/units are considered for sanction of loans.
Self-help groups that have not availed benefits under any other public scheme, societies, production co-operative societies, and charitable trusts.

Maximum Cost of Project/Unit Admissible:

Manufacturing Sector: Rs. 50 lakh
Service Sector: Rs.20 lakh

Government Subsidy:

Rural Areas: 25% for general category and 35% for special category, which includes SC/ST/OBC/Minorities, NER, Hill and Border Areas, transgender, physically disabled, north eastern region, aspirational and border district applicants.
Urban Areas: 15% for general category and 25% for special category.

Role of Banks: Loans are provided by Public Sector Banks, Regional Rural Banks, Co-operative Banks and Private Scheduled Commercial Banks approved by respective State Task Force Committee.

Changes:

The definition of village industry and rural area has been changed for the scheme.
Areas falling under Panchayati Raj institutions would be accounted under rural areas, whereas areas under Municipality will be treated as urban areas.

Significance:

The scheme will create sustainable estimated employment opportunities for about 40 lakh persons in five financial years.
It facilitates generation of employment opportunities for unemployed youth across the country by assisting setting up of micro-enterprises in the non-farm sector.
Since its inception in 2008-09, about 7.8 lakh micro enterprises have been assisted with a subsidy of RS 19,995 crore generating estimated sustainable employment for 64 lakh persons. About 80% of the units assisted are in rural areas and about 50% units are owned by SC, ST and women categories.
WHAT ARE THE CHALLENGES?
The Scheme is crippled by structural issues and high rate of Non-Performing Assets (NPAs). From 2015-16 to 2019-20, assistance of Rs. 10,169 crore was provided. Out of this, Rs. 1,537 crore has turned out to be NPA.
A deficiency in skills, lack of market study, low demand and stiff competition are believed to be the key reasons for such a large number of NPAs.
While normally all central schemes are given definite annual targets, this scheme is not driven by any such target. As both the states and the banks work without the aim of completing the annual target of disbursement of loans, the programme may lose its drive.
Besides providing financial support, the government needs to conduct an intensive training programme to help potential entrepreneurs focus on the right market and right products.
The scheme can prove beneficial at the time when the economy needs to recover from the effects of the Covid-19 pandemic. Timely disbursal of funds is crucial for execution of projects and creating employment in the country.
Government has to focus on the micro segment with better technology and marketing support. Only financial support is not enough. Awareness about the scheme is another challenge.
INDO-PACIFIC MARITIME DOMAIN AWARENESS (MDA) INITIATIVE
GS Paper - 2 - Important International Institutions - International Treaties & Agreements