My Mentor's Daily Current Affairs Analysis
DAILY CURRENT AFFAIRS 07 JUNE 2022
GS Paper - 3 - Conservation - Government Policies & Interventions
According to a census conducted by Chilika Development Authority, the Chilika Lake has 176 Fishing Cats.
The Census was conducted in Collaboration with The Fishing Cat Project (TFCP). This is the world's first population estimation of the fishing cat, which has been conducted outside the protected area network.
Spatially Explicit Capture Recapture (SECR) method was used to analyze the data. SECR is used to estimate the density of an animal population from capture–recapture data collected using an array of 'detectors'.
WHAT ARE FISHING CATS?
Scientific Name: Prionailurus viverrinus.
Description:

It is twice the size of a house cat.
The fishing cat is nocturnal (active at night) and apart from fish also preys on frogs, crustaceans, snakes, birds, and scavenges on carcasses of larger animals.
The species breed all year round.
They spend most of their lives in areas of dense vegetation close to water bodies and are excellent swimmers.

Habitat:

Fishing cats have a patchy distribution along the Eastern Ghats. They abound in estuarine floodplains, tidal mangrove forests and also inland freshwater habitats.
Apart from Sundarbans in West Bengal and Bangladesh, fishing cats inhabit the Chilika lagoon and surrounding wetlands in Odisha, Coringa and Krishna mangroves in Andhra Pradesh.

Threats:

Habitat Destruction: A major threat for fishing cats is the destruction of wetlands, their preferred habitat.
Shrimp Farming: Shrimp farming is another growing threat to mangrove habitats of the Fishing Cat.
Hunting: This unique cat also faces threats from hunting for meat and skin.
Ritual Practices: Tribal hunters indulge in ritual hunting practices throughout the year.
Poaching: It is also occasionally poached for its skin.
Poisoning: Indiscriminate trapping, snaring and poisoning.

Protection Status:
Conservation Efforts:

Earlier, Chilika Development Authority had declared its intent to adopt a five year action plan for fishing cat conservation in Chilika.
In 2021, the Fishing Cat Conservation Alliance initiated a study of the bio-geographical distribution of the fishing cat in the unprotected and human-dominated landscapes of the northeastern Ghats of Andhra Pradesh.
The Fishing Cat Project, launched in 2010 started raising awareness about the Cat in West Bengal.
In 2012, the West Bengal government officially declared the Fishing Cat as the State Animal and the Calcutta Zoo has two big enclosures dedicated to them.
In Odisha, many NGOs and wildlife conservation Societies are involved in Fishing Cat research and conservation work.
WHAT ARE THE KEY POINTS OF CHILIKA LAKE?
Chilika is Asia's largest and world's second largest lagoon.
In 1981, Chilika Lake was designated the first Indian wetland of international importance under the Ramsar Convention.
Major attraction at Chilika is Irrawaddy dolphins which are often spotted off Satapada Island.
The large Nalabana Island (Forest of Reeds) covering about 16 sq km in the lagoon area was declared a bird sanctuary in 1987.
Kalijai Temple - Located on an island in the Chilika Lake.
Chilika lake hosts birds migrating from thousands of miles away from the Caspian Sea, Lake Baikal, Aral Sea, remote parts of Russia, Kirghiz steppes of Mongolia, Central and South East Asia, Ladakh and the Himalayas.
The birds find the vast mud-field and abundant fish stock here suitable to congregate.
GS Paper - 2 - India and its Neighbourhood - Bilateral Groupings & Agreements - GS Paper - 3 - Growth & Development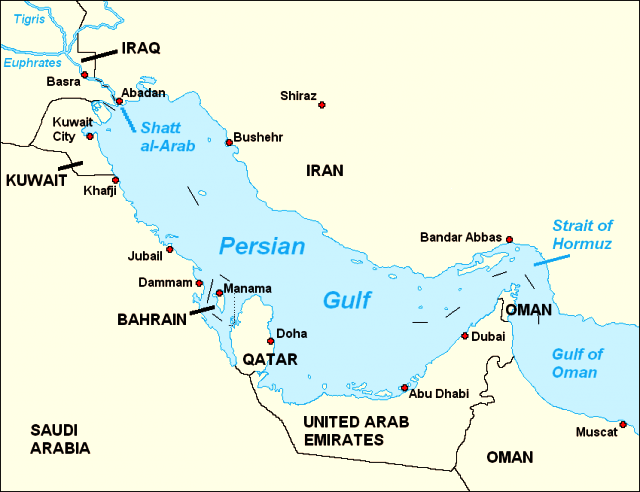 Recently, Indian Vice President visited Qatar, which is one of the Gulf Cooperation Council (GCC) Countries (Bahrain, Kuwait, Qatar, Oman, Saudi Arabia, and the UAE), where he highlighted the strength of India-Qatar ties and called for building an enabling environment and forging more collaborations for mutual benefit.
WHAT ARE THE KEY HIGHLIGHTS OF THE VICE PRESIDENT'S VISIT TO QATAR?
India-Qatar Start Up bridge:

The Vice President launched the "India-Qatar Start Up bridge" that aims to link the start-up ecosystems of the two countries.

India has emerged as the 3rd largest ecosystem for startups globally, with over 70,000 registered Startups.
India is home to 100 unicorns with a total valuation of over USD 300 billion.

Environment and Climate Change:

India has been making sustained efforts for the protection of environment and combating climate change.
He recalled India's leadership in establishing the International Solar Alliance (ISA) and increasing the thrust on renewable energy.
He invited Qatar, as India's trusted partner in its energy security, to be a partner in this journey for sustainability and join the ISA.

Joint Business Council Between Business Chambers:

He expressed happiness that a Joint Business Council between Business Chambers of India and Qatar has been established and that a Joint Task Force on Investments would take its work forward.
He also complimented Invest India and Qatar Investment Promotion Agency for entering into a partnership of guiding and assisting businesses on both sides to tap new and emerging opportunities.

Collaborations at Multilateral Forums:

He called for more collaboration between India and Qatar at multilateral forums like the Inter Parliamentary Union (IPU), Asian Parliamentary Assembly, and others.
WHY IS THE GULF REGION CRUCIAL FOR INDIA?
India has enjoyed centuries of good relations with countries like Iran, while smaller gas-rich nation Qatar is one of India's closest allies in the region.
India shares good relations with most of the countries in the Gulf.
The two most important reasons for the relationship are oil and gas, and trade.
Two additional reasons are the huge number of Indians who work in the Gulf countries, and the remittance they send back home.
HOW MUCH TRADE DOES INDIA DO WITH COUNTRIES IN THIS REGION?
UAE:

The UAE was India's third largest trading partner in 2021-2022, and second largest for both exports (USD 28 billion) and imports (USD 45 billion) when these are counted individually.
In terms of total trade volume, the UAE (USD 72.9 billion) was behind the United States (USD 1.19 trillion) and China (USD 1.15 trillion).
The UAE accounted for 6.6% of India's total exports and 7.3% of imports in the last financial year, up 68.4% since the previous year when international trade was impacted by the pandemic.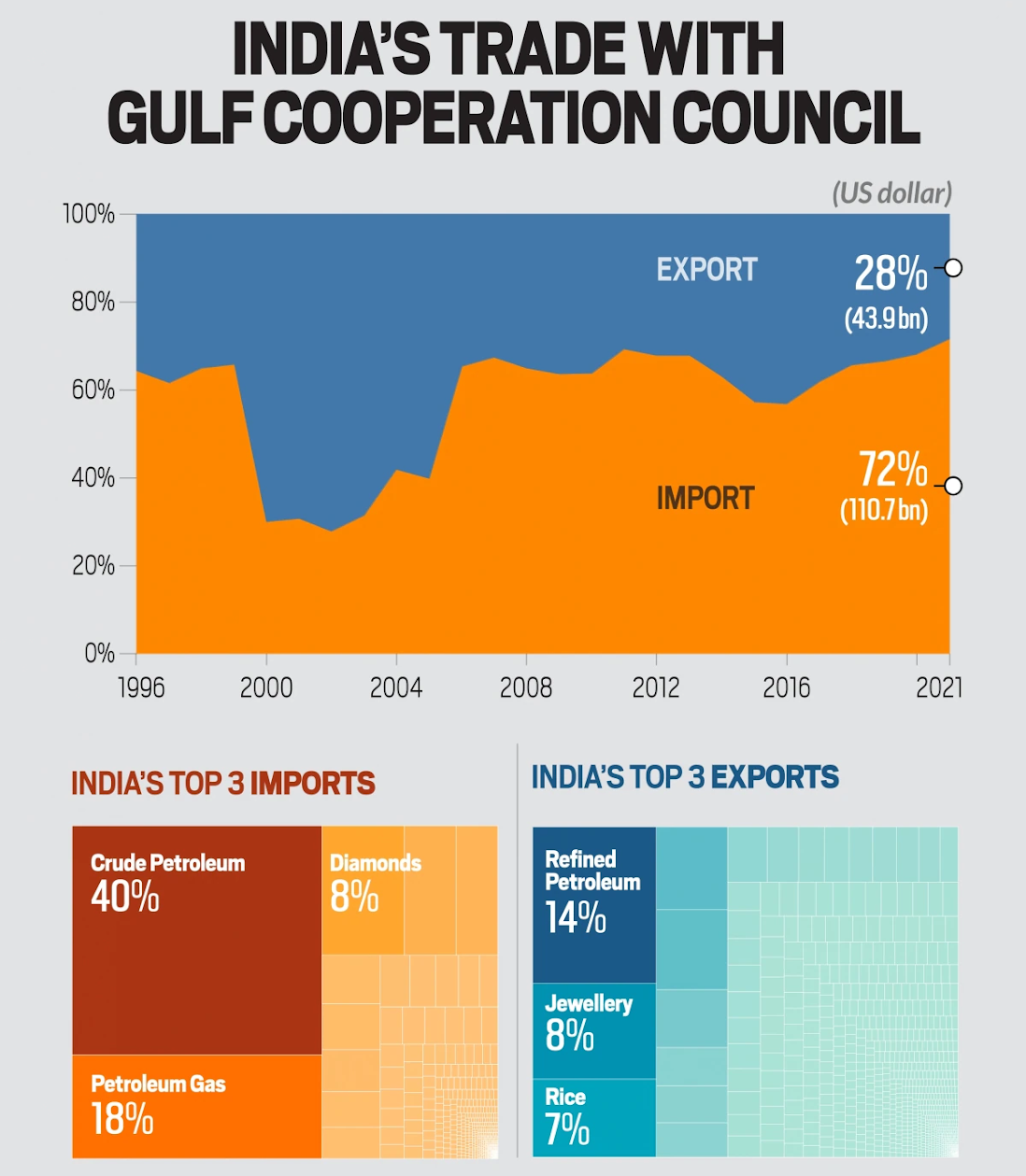 Saudi Arabia:

At a total volume of USD 42.9 billion in 2021-22, Saudi Arabia was India's fourth largest trading partner.
While exports were low at USD 8.76 billion (2.07% of India's total exports), imports from Saudi Arabia were the fourth largest at USD 34.1 billion (7%), up 50% from the previous year. Most of it was crude oil.

Iraq:

It was India's fifth largest trading partner in 2021-22 at USD 34.3 billion.

Qatar:

The total trade was USD 15 billion, accounting for just 1.4% of India's total trade, but the country is India's most important supplier of natural gas.
Qatar accounts for 41% of India's total natural gas imports.
The UAE accounts for another 11%.

Oman:

For Oman, India was the 3rd largest (after UAE and China) source for its imports and 3rd largest market (after UAE and Saudi Arabia) for its non-oil exports in 2019.
Major Indian financial institutions have a presence in Oman. Indian companies have invested in Oman in sectors like iron and steel, cement, fertilisers, textile etc.
HOW MUCH OIL DOES INDIA IMPORT?
The 239 million tonnes of oil petroleum imports were worth USD 77 billion and accounted for nearly one-fifth of the country's total imports in 2021.
The share of Persian Gulf countries in India's crude imports has remained at around 60% over the last 15 years.
In 2021-2022, the largest exporter of oil to India was Iraq, whose share has gone up from 9% in 2009-2010 to 22%.
Saudi Arabia has accounted for 17-18% of India's oil imports for over a decade. Kuwait and UAE remain major oil exporters to India. Iran used to be the second largest oil exporter to India in 2009-2010, its share went down to less than 1% in 2020-21, due to US sanctions.
WHAT IS THE SCENARIO OF INDIANS IN THE GULF AND THE REMITTANCES?
More than 13.46 million Indian citizens work abroad. If Persons of Indian Origin (those who have taken up citizenship of other countries, and their descendants) are added, this number goes up to over 32 million.
Counting only the 13.4 million non-resident Indians (NRIs), the Gulf has the largest numbers.

The UAE (3.42 million), Saudi Arabia (2.6 million) and Kuwait (1.03 million) together account for over half of all NRIs.

In terms of remittances from abroad, India was the largest recipient in 2020 at USD 83.15 billion, according to World Bank data.

This was nearly twice the remittances to the next highest recipient, Mexico, at USD 42.9 billion.

The largest contributor is the huge Indian diaspora in the Gulf.

The UAE accounted for 26.9%, Saudi Arabia for 11.6%, Qatar for 6.4%, Kuwait for 5.5% and Oman for 3%. Beyond the GCC, remittances from the US accounted for 22.9%, second only to the UAE.
WHAT ARE RECENT DEVELOPMENTS?
Recently, India and Oman signed a Programme of Cooperation (POC) in the fields of Science and Technology for the period 2022 – 2025.

The POC for Cooperation in the fields of Science and Technology was signed in pursuance of the Agreement for Cooperation in Science and Technology(S&T) concluded on 5th October, 1996 between Oman and India.

In September 2021, India and the UAE formally launched negotiations on the India-UAE Comprehensive Economic Partnership Agreement (CEPA).
In 2021, the Indian External Affairs Minister met the Foreign Minister of the Kingdom of Saudi Arabia, where both countries discussed bilateral cooperation in multilateral forums such as the United Nations, G-20 and Gulf Cooperation Council (GCC).
In 2021, India and Bahrain agreed to strengthen their historic ties, including in areas of defence and maritime security.
In 2020, the legal and legislative committee of Kuwait's National Assembly approved the draft expat (expatriate) quota bill.

According to the bill, Indians should not exceed 15% of the population and if it is enacted into law, over 8 lakh Indians could be forced out of Kuwait.
There is a need to focus on the new and long-term possibilities for economic cooperation with the Gulf countries, which is looking at a future beyond oil.

The Gulf states have embarked on massive economic diversification and are investing in a variety of new projects including renewable energy, higher education, technological innovation, smart cities, and space commerce.

With the rise of Khaleeji capitalism, the Gulf countries today deliver economic and security assistance to friendly states, build ports and infrastructure, acquire military bases and broker peace between warring parties and states.

The UAE currently chairs the Indian Ocean Rim Association (IORA) and has been eager to work with India in developing joint infrastructure projects.
India needs to bring scale and depth to its regional initiatives on connectivity and security in the Indian Ocean.
SIGNIFICANCE OF GEM PORTAL AND CHALLENGES POSED BY GeM PLATFORM
GS Paper - 2- GS Paper - 3 - Government Policies & Interventions - Growth & Development
The Union Cabinet has cleared up a proposal allowing cooperatives to sell products on the Government-e-Marketplace (GeM) platform.
The cooperatives may however be charged a transaction fee to cover the incremental costs.
The validated list of cooperatives to be onboarded on the GeM - for pilot as well as subsequent scale up - will be decided by the Ministry of Cooperation in consultation with the GeM SPV (Special Purpose Vehicle).
WHAT IS THE GEM PORTAL?
GeM is a one-stop National Public Procurement Portal to facilitate online procurement of common use Goods & Services required by various Central and State Government Departments/Organisations/Public Sector Undertakings (PSUs).
The procurement of goods and services by Ministries and the Central Public Sector Enterprises (CPSEs) is mandatory for goods and services available on GeM.
It also provides the tools of e-bidding and reverse e-auction to facilitate the government users achieve the best value for their money.
At present, GeM has more than 30 lakh products, over Rs. 10 lakh crores worth of transactions have happened so far at the portal.
Launch:

It was launched in 2016 to bring transparency and efficiency in the government buying process.

Nodal Ministry:

Ministry of Commerce and Industry.

Recent Updates:

Country of Origin Mandatory: GeM has made it mandatory for sellers to enter the Country of Origin while registering all new products on GeM.

This has been enabled on the portal so that the buyers can choose to buy only those products that meet the minimum 50% local content criteria.
WHAT IS THE SIGNIFICANCE OF GEM?
Transparent and Cost-effective Procurement: GeM enables quick, efficient, transparent and cost-effective procurement, especially when government organizations require products and services urgently to fight against the Covid-19 pandemic.
Promotion of Atmanirbhar Bharat: GeM has been promoting the Atmanirbhar Bharat policy, introduced in the wake of the Covid-19 pandemic, meant to encourage self-reliance and boost small Indian manufacturers.
Entry of Small Local Sellers: The Marketplace has facilitated entry of small local sellers in Public Procurement, while implementing 'Make in India' and MSME Purchase Preference Policies of the Government in the true sense.
Multiple Entities at One Place: The online marketplace can aggregate demand from multiple entities for similar products, and build on the preferences provided by State governments to small enterprises.
WHAT ARE THE CHALLENGES ASSOCIATED WITH GeM?
Multiple Portals:

There are multiple portals in Central government departments, such as the defence procurement portal, and the Indian Railways e-Procurement System, which could limit GeM's effort to achieve its mandate as the National Public Procurement Portal and provide the benefit of economies of scale and efficiency.

Lack of Compliance:

It also faces a bit of a challenge in getting all Central organizations to comply with Rule 149 of the General Financial Rules (GFR) 2017, which mandates that all common-use goods and services that are available on the GeM portal should necessarily be procured on the platform.
Single Portal: The multiple portals are leading to confusion among farmers and also cause synchronization challenges. A single portal for all the public purchases may help to solve this problem and will help in tackling the problem of misgovernance.
Imposition of penalty: There should be penalties for misgovernance in matters related to agricultural marketing and an increase in penalties wherein they already exist. It will help in tackling the problem of lack of compliance.
Use of vernacular Language: The user interface for public purchase portals should be in local language to tackle the issue of a particular language dominance.
Interoperability: The public portals should ensure portability from one platform to another to ensure their smooth functioning.
Cost Competitiveness: GeM Portal will help farmers and cooperatives find buyers for their products easily and will save them from losses which they incur due to rioting of the perishable products due to lack of sales and will also increase the cost competitiveness of their products as earlier fees by Agricultural Produce Market Committees (APMCs) of states had led huge increase in cost due to administrative inefficiency.

It will help in realizing the vision of Doubling Farmers Income by 2022 as recommended by Ashok Dalwai committee.
WHAT ARE CO-OPERATIVES?
According to the International Labour Organisation (ILO), a cooperative is an autonomous association of persons united voluntarily to meet their common economic, social and cultural needs and aspirations through a jointly owned and democratically controlled enterprise.
There are many types of cooperatives such as Consumer Cooperative Society, Producer Cooperative Society, Credit Cooperative Society, Housing Cooperative Society and Marketing Cooperative Society.
The United Nations General Assembly had declared the year 2012 as the International Year of Cooperatives.
India is an agricultural country and laid the foundation of World's biggest cooperative movement in the world.
In India, a Co-operative based economic development model is very relevant where each member works with a spirit of responsibility.
GS Paper - 3 - Environmental Pollution & Degradation
Recently, the Center for Science and Environment has reported that rivers of India are facing severe metal pollution.
Three out of every four river monitoring stations in India have observed alarming levels of heavy toxic metals such as lead, iron, nickel, cadmium, arsenic, chromium and copper.
WHAT IS HEAVY METAL POLLUTION?
Heavy Metals:

Heavy metals may be defined as elements with an atomic number larger than 20 and an atomic density greater than 5 g cm-3 that must possess metal-like characteristics. Example: arsenic, cadmium, chromium, copper, lead, manganese, mercury, nickel, uranium etc.

Heavy Metal Pollution:

Heavy metal pollution has been caused in our rivers, soils, and environment as a result of rapidly growing agriculture and metal industries, improper waste management, heavy use of fertilizers, and pesticides.
Agricultural and industrial operations, landfilling, mining, and transportation are the primary sources of heavy metals in groundwater.
Through the agricultural water runoff heavy metals reach upto river.
Discharge of wastewater from industries (like the tannery industry which is a big source of chromium heavy metals) directly into river bodies intensified the severity of the heavy metal pollution.
Heavy metals have the property of long persistent in plants, animals and environment.
WHAT ARE THE SOURCES OF HEAVY METALS?
There are two kinds of sources through which the heavy metals enter into the environment.

Natural Source:

Heavy Metals are naturally present in the earth's crust. Rocks are the natural source of heavy metals. Heavy Metals are present in the rocks in the form minerals. Examples: arsenic, copper, lead etc.

Anthropogenic Source:

Mining, industrial, and agricultural operations are all anthropogenic sources of heavy metals in the environment.
These heavy metals are produced during the mining and extraction of various elements from their respective ores.
Heavy metals emitted into the atmosphere during mining, smelting, and other industrial activities are deposited on land by dry and wet deposition.
Discharge of wastewaters such as industrial effluents and domestic sewage add heavy metals to the environment.
Application of chemical fertilizers and combustion of fossil fuels also contribute to the anthropogenic input of heavy metals in the environment.
WHAT HAS BEEN OBSERVED IN MONITORING OF HEAVY METAL POLLUTION?
There are 764 river quality monitoring stations in India, spread over 28 states.
Out of the 33 monitoring stations in Ganga, 10 had high levels of heavy metals contaminants.
The Central Water Commission examined water samples from 688 sites for heavy metals between August 2018 and December 2020.
Total coliform and biochemical oxygen demand were high in 239 and 88 of the 588 water quality stations examined for pollution throughout 21 states.
It indicates that wastewater treatment from industry, agricultural, and domestic households is inadequate.
According to the Center for Science and Environment's State of the Environment Report 2022, the river, which is the focus of the Namami Gange mission, contains high levels of lead, iron, nickel, cadmium, and arsenic (CSE).
The report is a yearly compilation of data on environmental development obtained from public sources.
According to the Central Pollution Control Board, ten states do not treat their sewage at all.
In India, 72% of sewage waste is dumped untreated.
WHAT ARE THE CONSEQUENCES OF THE HEAVY METAL POLLUTION?
These toxic heavy metals entering the environment may lead to bioaccumulation and biomagnifications.

Bioaccumulation:

The net accumulation of a pollutant in an organism from all sources, including water, air, and food, is known as bioaccumulation.'

Biomagnifications:

Biomagnification is the accumulation of a chemical by an organism as a result of water and food exposure, resulting in an increase in concentration that is higher than would have been expected from equilibrium.

Some heavy metals have an effect on biological activities and growth, while others accumulate in one or more organs, resulting in a variety of severe diseases such as cancers, skin diseases, nervous system disorders etc.

Metal toxicity results in the production of free radicals, which damages DNA.

These heavy metals are not readily degradable in nature and accumulate in the animal as well as human bodies to a very high toxic amount.

Heavy metal intake has been related to developmental retardation, renal damage, a variety of cancers, and even death in extreme cases.
WHAT IS NAMAMI GANGE MISSION?
Namami Gange mission is an Integrated Conservation Mission, approved as a 'Flagship Programme' by the Union Government in June 2014 to accomplish the twin objectives of effective abatement of pollution and conservation and rejuvenation of National River Ganga.
It is being operated under the Department of Water Resources, River Development and Ganga Rejuvenation, Ministry of Jal Shakti.
The program is being implemented by the National Mission for Clean Ganga (NMCG), and its state counterpart organizations i.e State Program Management Groups (SPMGs).
NMCG is the implementation wing of National Ganga Council (set in 2016; which replaced the National Ganga River Basin Authority - NGRBA).
The main pillars of the programme are:

Sewage Treatment Infrastructure
River-Front Development
River-Surface Cleaning
Biodiversity
Afforestation
Public Awareness
Industrial Effluent Monitoring
Ganga Gram
WHAT IS THE CENTRAL WATER COMMISSION?
The Central Water Commission is the apex technical organization in the country for development of water resources and is an attached organization of the Ministry of Jal Shakti.
The Commission is responsible for initiating, coordinating and furthering, in consultation with the State Governments, the schemes for control, conservation, development and utilization of water resources throughout the country for the purpose of irrigation, flood management, power generation, navigation etc.
NEED TO ENSURE FOOD SAFETY AND RELATED CHALLENGES
GS Paper - 2 - Health - Government Policies & Interventions
Every Year, 7th June is observed as World Food Safety Day.
WHAT ARE THE KEY HIGHLIGHTS OF WORLD FOOD SAFETY DAY?
About:
Aim:

To draw attention and inspire action to help prevent, detect and manage foodborne risks, contributing to food security, human health, economic prosperity, agriculture, market access, tourism and sustainable development.

2022 Theme:

Safer Food, Better Health

Need:

Foodborne illnesses:

With an estimated 600 million cases of foodborne illnesses annually, unsafe food is a threat to human health and economies, disproportionally affecting vulnerable and marginalized people, especially women and children, populations affected by conflict, and migrants.

Foodborne Disease Burden:

An estimated 420000 people around the world die every year after eating contaminated food and children under 5 years of age carry 40% of the foodborne disease burden, with 125 000 deaths every year.
WHAT ARE THE RELATED INITIATIVES?
Global:

The Codex Alimentarius, or "Food Code" is a collection of standards, guidelines and codes of practice adopted by the Codex Alimentarius Commission.
The Codex Alimentarius Commission is a joint intergovernmental body of the Food and Agriculture Organization and World Health Organization.

Currently, it has 189 members and India is a member.

India's:

State Food Safety Index:

FSSAI has developed the State Food Safety Index (SFSI) to measure the performance of States on five parameters of food safety.

The parameters include Human Resources and Institutional Arrangements, Compliance, Food Testing- Infrastructure and Surveillance, Training and Capacity Building and Consumer Empowerment.

Eat Right India Movement:
Eat Right Awards:

FSSAI has instituted the 'Eat Right Awards' to recognize the contribution of food companies and individuals to empower citizens to choose safe and healthy food options, which would help improve their health and well-being.

Eat Right Mela:

Organised by FSSAI, it is an outreach activity for citizens to nudge them towards eating right. It is organised to make citizens aware of the health and nutrition benefits of different types of food.