My Mentor's Daily Current Affairs Analysis
DAILY CURRENT AFFAIRS 30th MAY 2022
GS Paper - 2 - India and its Neighbourhood - Government Policies & Interventions

Recently, the Ministry of External Affairs has confirmed that China is building a second bridge on the Pangong Tso lake.
The site of the bridge is around 20 km east of Finger 8 on the lake's north bank – where the Line of Actual Control (LAC) passes.
However, the actual distance by road is more than 35 km between the bridge site and Finger 8.
WHAT ARE THE KEY POINTS?
The construction site is just east of Khurnak Fort, where China has major frontier defence bases.
China calls it Rutong Country.
It has a frontier defence company at the Khurnak Fort, and further east, a water squadron deployed at Banmozhang.
Although it is being built in territory that is under China's control since 1958, the exact point is just west of India's claim line.
The Ministry of External Affairs considers the area as illegally occupied by China.
HOW WILL THESE CONSTRUCTIONS HELP CHINA?
The bridges are at one of the narrowest points on the lake, close to the LAC.
These constructions will connect both sides of the lake, which would significantly cut down time for the People's Liberation Army (PLA) to move troops and armored vehicles.
The induction of troops from the G219 highway (Chinese national highway) would come down by 130 km due to this bridge.
Pangong Tso
Pangong Tso is a 135-km long landlocked lake located at an altitude of over 14,000 feet i.e., 4350 m above sea level.
Indian and China have around one-third and two-thirds of Pangong Tso Lake respectively.

India has around 45 km of Pangong Tso under its control while approximately 60% of the lake, in terms of length, lies in China,
The eastern end of Pangong Tso lies in Tibet.

The lake, a glacial melt, has mountain spurs of the Chang Chenmo range jetting down, referred to as fingers.
It is one of the highest altitude lakes in the world that is filled with saline water.

However, even though it is a saline water lake, Pangong Tso freezes completely.
The brackish water of this region has very low micro-vegetation.
No aquatic life or fish, except crustaceans during winters are found.

It is a kind of endorheic basin, which implies that it retains its water and does not allow outflow of its water to other external water bodies, such as oceans and rivers.
Pangong Tso is popular for its changing colour ability.

Its colour changes from shades of blue to green to red.
WHY DOES CHINA CHOOSE THIS LOCATION?
The constructions are a direct outcome of the ongoing standoff that began in May 2020.
The location is the consequence of an operation conducted by the Indian Army in August 2020 where Indian troops outmaneuvered the People's Liberation Army to occupy the heights of Kailash Range in the Chushul sub-sector on the south bank of Pangong Tso.
The positions allowed India to dominate the strategically significant Spanggur Gap, which could be used to launch an offensive as China had done in 1962.
Also, India got a direct view of China's Moldo Garrison (China's military base). This was a cause of immense concern for the Chinese.
After this operation, the Indian Army also readjusted on the lake's north bank to position themselves above Chinese positions.
The north bank was one of the first friction points to have come up in May 2020.

During this jostling, warning shots were fired for the first time by both sides, a first in over four decades.

New bridge will allow Chinese troops to slash travel time from around 12 hours at the moment to around four hours.
WHAT IS THE CURRENT SITUATION IN THE STANDOFF?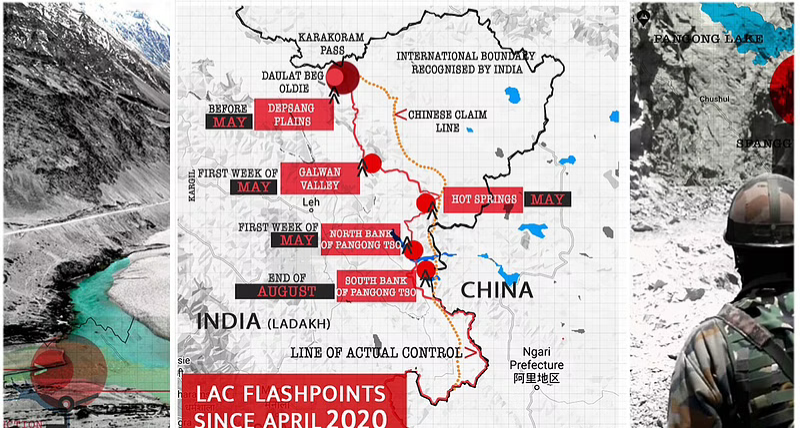 India and China pulled their troops back from Patrolling Point (PP) 14 in Galwan Valley in June 2020, after the fatal clashes.
Then they disengaged from the north and south banks of Pangong Tso in February 2021, and from PP17A near Gogra Post in August. But negotiations have been stuck since then.
The Corps Commanders from both sides have met 15 times since the standoff began.
The dates for the next round of talks are still awaited.
WHAT HAS BEEN INDIA'S RESPONSE?
India is monitoring all Chinese activity closely.
India has never accepted such illegal occupation and the unjustified Chinese claim or such construction activities in India's territory.
India is also upgrading and developing infrastructure along the northern border.
In 2021, over 100 projects were completed by the Border Roads Organisation (BRO) in the border areas, most of which were close to the China border.
India is also improving surveillance along the LAC.
Union Information and Broadcasting at the 17th Asia Media Summit applauded the Indian media for its role during the Covid-19 pandemic.
WHAT WAS THE ROLE PLAYED BY THE MEDIA DURING COVID-19?
Positive Role:

It ensured that awareness messages on Covid-19, important government guidelines and free consultations with doctors reached everyone in the country.
It strongly fought against the menace of fake news and misinformation on a real time basis.
The media has significantly delivered on their mandate of public service by setting the trend through prompt coverage, ground reports and organising programmes on public health.

Negative Role:

Social media has played a crucial role in spreading awareness and knowledge about public health, however, it has also been misused for spreading fake news, hatred and creating racism during epidemics.
Even before the detection of the first case of COVID-19 in India, the epidemic of social media panic hit India, which led to stock out of masks and sanitizers from the market.
The fake claims about transmission of virus through air and its survival on different surfaces created a panic.
An unwarranted use of N95 masks by common people during travelling and daily activities resulted in the shortage for frontline healthcare workers who actually needed those.
Due to existing multiple media houses in India, messages containing fake claims about use of herbal and immunity-booster medicines, religious and spiritual ways for prevention and treatment were widely circulated which added to the confusion.
The panic was escalated by fake news such as the possibility of extending the lockdown , which resulted in individuals fleeing from quarantine or isolation facilities and unnecessary travel prior to lockdown or even during lockdown for returning to their hometown.
WHAT IS THE ROLE OF THE MEDIA AS THE FOURTH PILLAR OF DEMOCRACY?
Source of Information: For a democracy and its development, impartial information is critical. The media helps to provide people with important knowledge. For example, data on economics, health, education, etc.
Educate: To educate people on topics of paramount importance to society, the media is vital. An growing number of incidents of rapeare a concern to society. It is necessary to disclose the exact number of cases and to help raise society's awareness.
Awareness: The media reminds society of their democratic rights and the media helps in maintaining checks and balances.
Ensuring Fairness: The media plays a vital role in ensuring justice and the benefits of the government policies reaching the weaker sections of the society.
Watchdog: For a stable democracy, Media reporting on public affairs and investigations into wrongdoing in the administration of public affairs is must. This means exposing circumstances of fraud or abuse that favour politicians directly. This makes people vote for the best government to defeat a corrupt and dishonest government.
Good Governance: In auditing government policies and spending, the media plays an important part. An unbiased media is important for transparent reporting.
Accountability: An informed person, based on facts and statistics, can challenge government policies to ensure accountability and answerability.
Dissemination of government policies: In order to propagate and disseminate different government policies and initiatives, the media is relevant. In spreading awareness of Swachh Bharat and Beti Bachao Beti Padhao etc the media played an important role.
As a fourth pillar, the media plays an important part in achieving the true meaning of democracy.
WHAT IS ASIA MEDIA SUMMIT?
Asia Media Summit is the annual conference organised by Asia-Pacific Institute for Broadcasting Development (AIBD) in collaboration with its partners and international organisations.
The Conference is attended by Decision makers, media professionals, scholars, and stakeholders of news and programming from Asia, Pacific, Africa, Europe, Middle East, and North America.
Asia Media Summit provides a unique opportunity for broadcasters in the region to share their thoughts on Broadcasting and Information and is supported by all regional and International Broadcasting Unions.
WHAT IS AIBD?
About:

The Asia-Pacific Institute for Broadcasting Development (AIBD) was established in 1977 under the auspices of UNESCO.
AIBD is a unique regional intergovernmental organisation servicing countries of the United Nations Economic and Social Commission for Asia and the Pacific (UN-ESCAP) in the field of electronic media development.
Its secretariat is situated in Kuala Lumpur and is hosted by the Government of Malaysia.
The AIBD is mandated to achieve a vibrant and cohesive electronic media environment in the Asia-Pacific region through policy and resource development.

Founding Members:

The International Telecommunication Union (ITU), the United Nations Development Programme (UNDP), and the United Nations Educational, Scientific Cultural Organisation (UNESCO) and The Asia-Pacific Broadcasting Union (ABU) are founding organisations of the Institute and they are non-voting members of the General Conference.
GS Paper - 3 - Employment - Growth & Development - IT & Computers - Mobilization of Resources
WHY IN NEWS?
Recently, the number of unicorns in India reached the 100-mark.
One unicorn means a startup of at least Rs 7,500 crore turnover. The total valuation of these unicorns is USD 330 billion, that is over Rs 25 lakh crore.
The average annual growth rate of Indian unicorns is more than that of the U.S., the U.K. and many other countries.
WHAT IS A UNICORN?
About:
Features:

Disruptive innovation: Mostly, all the unicorns have brought a disruption in the field they belong to, for example, Uber transformed commuting.
Technology-driven: The business model is driven by the latest technological innovations and trends.
Consumer-focused: Their goal is to simplify things for consumers and be a part of their day-to-day life.
Affordability: Keeping things affordable is another key highlight of these startups.
Privately owned: Most of the unicorns are privately owned which gets their valuation bigger when an established company invests in it.
Software-based: A recent report suggests that 87% of the unicorns' products are software, 7% are hardware and the rest 6% are other products & services.
WHAT IS THE STATE OF STARTUPS AND UNICORNS IN INDIA?
Status:

India has become the 3rd largest start-up ecosystem in the world after the US and China.
44 Indian start-ups have achieved unicorn status in 2021 taking the overall tally of unicorns to 83, most of which are in the services sector.
India has seen such rapid growth in unicorns due to several strategic as well as conditional reasons.

Growth Drivers:

Government Support:

Government of India is understanding the value of working with disruptive innovators across the value chain and using their innovations to improve public service delivery.
Department of Animal Husbandary and Dairying has conducted a grand challenge in association with Startup India to award top startups in 5 categories 10 lakhs INR.

Adoption of Digital Services:

The pandemic accelerated the adoption of digital services by consumers helping start-ups and new-age ventures build tech-focused businesses for customers.

Online Services and Work from Home Culture:

Many Indians moved to online services exploring a host of services ranging from food delivery and Edu-tech to e-grocery.
The Work-from-home culture helped increase the number of start-ups' user base and expedited their business expansion plans and attracting investors.

Digital Payments:

The growth of Digital Payments is another aspect that aided the unicorn the most.

Buyouts from Major Public Corporations:

Many startups become unicorns as a result of buyouts from major public corporations that prefer to focus on acquisitions to grow their business rather than investing in internal growth.

Challenges:

Increasing Investments Do Not Ensure Success of a Startup: Amid the Covid-19 crisis, when the central banks have released a global glut of liquidity, money is no more a difficult task to raise.
The billions of dollars being invested in startups represent the large bets on distant outcomes, and not value generation by way of revenues.
Plus, one cannot assume the high rate of survival of these startups with such investments, as it can be assured by profits.

India, still a Marginal Player in the Space Sector: While India's startups in the fintech and e-commerce sector are doing exceptionally well, the space startup sector remains an outlier

Currently, the global space economy is worth USD 440 billion, with India having less than 2% share in the sector.

This is despite the fact that India is a leading space-faring country with end-to-end capabilities to make satellites, develop augmented launch vehicles and deploy interplanetary missions.

The reason for the lack of independent private participation in space includes the absence of a framework to provide transparency and clarity in laws.

Indian Investors Unwilling to Take Risks: The big investors in India's startup sector are from overseas, Japan's SoftBank, China's Alibaba, and Sequoia from the US.

That's because India does not have a serious venture capital industry with an appetite for risk.
The country's established conglomerates have mostly stuck to traditional businesses.
WHAT ARE THE RELATED GOVERNMENT INITIATIVES?
Startup Innovation Challenges: It is a fantastic opportunity for any startup to leverage their networking and fund-raising efforts.
National Startup Awards: It seeks to recognize and reward outstanding startups and ecosystem enablers that are contributing to economic dynamism by spurring innovation and injecting competition.
Ranking of States on Support to Startup Ecosystems: It is an evolved evaluation tool aimed to strengthen the support of States and UTs to holistically build their startup ecosystems.
SCO Startup Forum: The first-ever Shanghai Cooperation Organisation (SCO) Startup Forum was launched in October 2020 to develop and improve startup ecosystems collectively.
Prarambh: The 'Prarambh' Summit aims to provide a platform to the startups and young minds from around the world to come up with new ideas, innovation and invention.
The accelerated development of the start-up ecosystem needs significant funding and therefore the role of venture capital and Angel Investors are critical.
Apart from policy-level decisions that promote entrepreneurship, the onus is also on India's corporate sector to foster entrepreneurialism, and create synergies to build impactful technology solutions, and sustainable and resource-efficient growth.
With the recent events creating capital distrust in China, the world's attention is sharpening on the lucrative tech opportunities in India and the value that could be created. For this, India requires decisive policy measures in addition to the Digital India Initiative.
CHALLENGES WITH INFORMAL ECONOMY AND RELATED INITIATIVES
GS Paper - 3 - Employment - Government Policies & Interventions - Inclusive Growth - Management of Social Sector/Services- Growth & Development
According to the latest data, as many as 27.69 crore informal sector workers are registered on the e-shram portal.
WHAT IS AN E-SHRAM PORTAL?
About:

Launched in 2021, e-Shram portal is aimed at building a comprehensive National Database of Unorganized Workers (NDUW) in the country.

Aim:

To register unorganised workers such as construction labourers, migrant workforce, street vendors, and domestic workers, among others.

The workers will be issued an e-Shram card containing a 12-digit unique number.
If a worker is registered on the eSHRAM portal and meets with an accident, he will be eligible for Rs 2.0 Lakh on death or permanent disability and Rs 1.0 lakh on partial disability.
The aim of the portal is to boost the last-mile delivery of the welfare schemes for over unorganised workers in the country.

Background:
Implementation:

Government in States/UTs will conduct registration of unorganised workers across the country.
WHAT IS THE SCENARIO OF INFORMAL SECTOR WORKERS IN INDIA?
Social Category Analysis:

Over 94% of 27.69 crore informal sector workers registered on the e-Shram portal have a monthly income of Rs 10,000 or below and over 74% of the enrolled workforce belongs to Scheduled Castes (SC), Scheduled Tribes (ST) and Other Backward Classes (OBC).

The proportion of the General Category workers is 25.56%.

The data showed that 94.11% of the registered informal workers have a monthly income of Rs 10,000 or below, while 4.36% have a monthly income between Rs 10,001 and Rs 15,000.

Age-wise Analysis:

61.72% of the registered workers on the portal are of the age from 18 years to 40 years, while 22.12% are of the age from 40 years to 50 years.
The proportion of the registered workers aged above 50 years is 13.23% while 2.93% of workers are aged between 16 and 18 years.

Gender Wise Analysis:

52.81% of registered workers are female and 47.19 % are male.

Top-5 States in Terms of Registration:

Uttar Pradesh, Bihar, West Bengal, Madhya Pradesh and Odisha.

Occupation Wise:

Agriculture is at the top with 52.11% of enrolments done by those related to the farm sector followed by domestic and household workers at 9.93% and construction workers at 9.13%.
WHAT IS THE STATE OF INFORMAL ECONOMY OF INDIA?
An Informal economy represents enterprises that are not registered, where employers do not provide social security to employees.

In many parts of the developing world, including India, informality has reduced at a very sluggish pace, manifesting itself most visibly in urban squalor, poverty and unemployment.
Despite witnessing rapid economic growth over the last two decades, 90% of workers in India have remained informally employed, producing about half of Gross Domestic Product (GDP).
Official Periodic Labor Force Survey (PLFS) data shows that 75% of informal workers are self-employed and casual wage workers with average earnings lower than regular salaried workers.

Combining the ILO's widely agreed upon definition with India's official definition (of formal jobs as those providing at least one social security benefit — such as EPF), the share of formal workers in India stood at only 9.7% (47.5 million).
WHAT ARE THE CHALLENGES RELATED TO INFORMAL SECTOR WORKERS?
Labour Related Challenges: On dividing the large number of workforce between the rural and the urban segment, although the large number is employed in the rural sector, the bigger challenge is in the urban workforce in the informal sector.

Long working hours, low pay & difficult working conditions.
Low job security, high turnover and low job satisfaction.
Inadequate social security regulation.
Difficulty in exercising rights.
Child and forced labour and discrimination on basis of various factors.
Vulnerable, low-paid and undervalued jobs.

Productivity: The informal sector basically comprises MSMEs and household businesses which are not as big as firms like Reliance. They are unable to take advantage of economies of scale.
Inability to Raise Tax Revenue: As the businesses of the informal economy are not directly regulated, they usually avoid one or more taxes by hiding incomes and expenses from the regulatory framework. This poses a challenge for the government as a major chunk of the economy remains out of the tax net.
Lack of Control and Surveillance: The informal sector remains unmonitored by the government.

Further, no official statistics are available representing the true state of the economy, which makes it difficult for the government to make policies regarding the informal sector in particular and the whole economy in general.

Low-quality Products: Although the informal sector employs more than 75% of the Indian population, the value-addition per employee is very low. This means that a major portion of our human resource is under-utilized.
WHAT ARE THE RELATED INITIATIVES?
Simpler regulatory framework: The transition of the informal sector to the formal sector can only occur when the informal sector is given relief from the burden of regulatory compliance and is given enough time to adjust with the modern, digitized formal system.
Financial Support for Formalisation: Giving financial support to help small-scale industries stand on their own is a crucial step in bringing them to the organized sector.
GS Paper - 2 - Fundamental Rights - Directive Principles of State Policy - Issues Related to Women